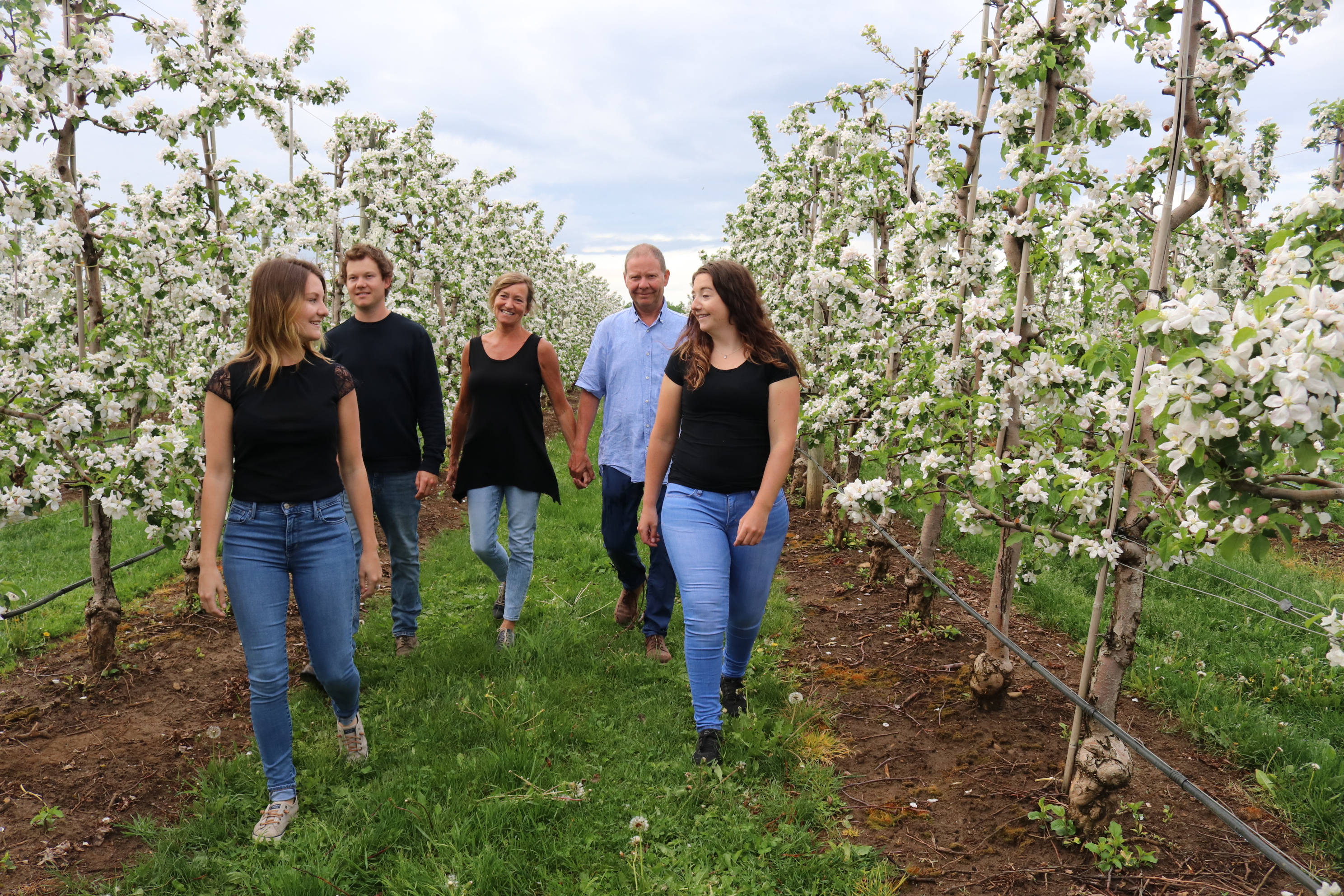 Growing a Prince of an apple
The Red Prince is an apple like no other - a natural cross between a Golden Delicious and a Red Jonathan with a deep red colour. Like a fine wine, it must be cellared so it can mature before it's ready to eat, a most unusual characteristic for an apple.
Red Prince made its Canadian debut at Botden Orchards along the shores of Georgian Bay in one of Ontario's major apple-growing regions and is now also grown in Quebec and the Maritimes. Its roots, though, trace back to the Netherlands and the Dutch farming family who first brought Red Prince to Canada almost 20 years ago.
Marius and Irma Botden had a fruit tree nursery in the Netherlands, and one of the things they brought with them when they immigrated to Canada in 2001 was the exclusive right to grow Red Prince, an apple of Dutch origin, in their new home.
Today, three of their children have joined the family business. Son Gerbe has been the Orchard Manager since 2012, and his sisters Sacha and Gitty are involved in the apple storage and packing side of the operation.
Botden Orchards now has well over 400 acres in production, and the family has expanded to integrate Blue Mountain Fruit Company and Bluewater Storage into their business.
"We store and pack our own apples as well as for other growers in Ontario and Canada, and we sell to virtually all major retailers in Canada. We also sell into the United States," says Gerbe Botden. "This year, we are in a new packing facility, so we are able to pack more apples for other growers as well."
Their production includes popular mainstream apple varieties like Honeycrisp, Ambrosia, Gala and McIntosh, but it's Red Prince that has attracted the most consumer attention.
Its season is unique - after harvest in the fall, it immediately goes into controlled atmosphere storage so its natural acids and sugars can mature. The taste hits its peak in winter when the apple first starts appearing on store shelves.
A strong following on social media eagerly awaits Red Prince's release every January, and after a decade of continued growth, the Botdens are now working with other farmers to have them grow Red Prince apples too.
This year marks another first for Red Prince and indeed the produce industry: an innovative apple bag that can be recycled or will biodegrade in the landfill once the fruit is consumed.
The focus on innovation is reflected in the farm's apple production too. According to Botden, they're always changing production practices through research and on-farm trials to improve quality and address any challenges that arise. Grid soil samples are taken before new trees are planted, cover crops are incorporated into the orchard to prevent erosion and boost soil health, and the apples are closely monitored throughout the season.
"We're always making small but significant adjustments to our practices throughout the growing season, like fertilizer, crop protection and other inputs," he says. "Precision agriculture has been a difficult process to bring to horticulture due to the amount of manual labour we still need in apple growing, but I see this issue will change in the near future with better visioning technology and sensors that can analyze a crop throughout the growing season."
One thing that's consistent on the farm is that no two years are the same. That means being able to adapt and solve whatever problems come up - and that's what appeals to Botden most about apple growing.
The past year brought one of the biggest challenges in recent times in the form of COVID-19, and although the Georgian Bay area has avoided major outbreaks so far, the pandemic has been a true test in adaptability.
"We've learned to adapt, making sure our whole labour force of both local and international workers is well educated about COVID and following the procedures in place," he notes. "It went well for us, but it's a challenge. You have to step up and make sure everyone is healthy and happy - we can't work from home in agriculture."
"We're always keeping an eye out for new opportunities so we can continue to provide Ontarians with the best quality apples we can grow," he adds.