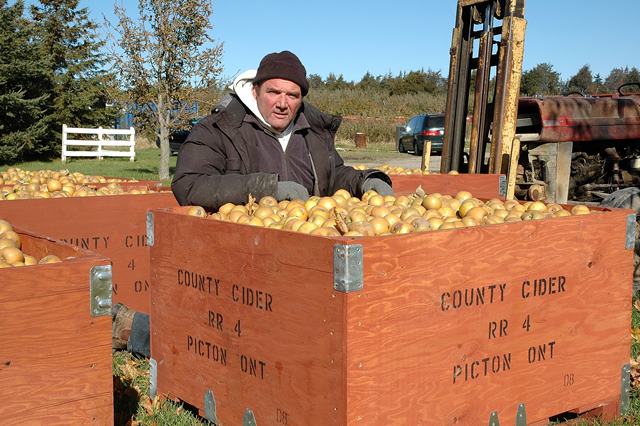 Ontario cider pioneer leading craft apple cider renaissance
The light, refreshing taste of Ontario craft ciders is in hot demand across the province – and Ontario apple and cider producers are working to quench that consumer thirst just as quickly as their trees will grow and bear fruit.
One of the pioneers of Ontario's craft cider industry is The County Cider Company in picturesque Prince Edward County, which opened its doors 19 years ago with its first 600 litres of the locally produced apple beverage. It quickly sold out and owner Grant Howes says they haven't looked back since.
His parents first bought the apple orchard in the 1970s, a farm where apples have been grown for over 150 years, and grew many well-known varieties like Empire, Idared and Spartan. It was during a stint working out west that he discovered the hard apple cider that set the family business on a new course. Hard apple cider is a fermented alcoholic drink; by comparison, sweet apple cider, which is widely produced in Ontario, is an unfiltered, unsweetened non-alcoholic beverage.
"Like all apple growers we faced some challenging times in the 1980s and 90s and so I worked off the farm out west to keep the farm going," he says. "I started drinking cider out west and I thought that we should be able to do this in Ontario too."
He returned home and began working on different cider formulations using apples from the family orchard, launching the cidery in 1995. The growth that followed was exponential and in 2002, the family ended its pick your own business to put 100 per cent of their crop into cider production.
"We'd gone from being an apple orchard with a cidery to a cidery with an apple orchard," Howes says.
Most traditional Ontario apple varieties make a great base for ciders, including Spartan, McIntosh, Empire, Golden Russet and Northern Spy, as they have high acid levels. Newer varieties like Honey Crisp and Ambrosia are less suitable due to their higher sugar content. Howes has also been working on propagating rare apple cider varieties from England and France, such as Bulmer's Norman, Michelin and Dabinet that are the mainstays of Europe's cider production.
"There are many weird and wonderful apples that are the backbone of the European cider industry and we are extensively budding these ourselves and putting them out in the orchard," he explains. "We know which ones do well and they've all come through the cold weather this year."
An added benefit from the transition to growing apples for hard cider production for Howes has been the reduced environmental footprint of his operation. Small apples full of flavour are ideal, so he is using less water for growing. As well, Howes says they're now using 70 per cent fewer crop protection materials than they were 20 years ago; because the apples are being processed, small blemishes and insect bites won't decrease the value of his crop the way it can for fresh market fruit.
The County Cider Company is best known for its Waupoos and County Cider beverages, although they also produce non-alcoholic sparkling and fruit-flavoured ciders. Their products are sold through their on-site store and about 150 Ontario bars and restaurants have Waupoos cider on draft. In the summer in the Prince Edward County region they outsell some popular beers, Howes says and every year they seem to sell out, even though they are increasing their production 30 to 40 per cent per year.
"In the beginning we had to make ciders that could compete with ones like Strongbow that are made by multi-nationals. We don't have their marketing dollars so the only way we could compete was making a quality product," he says. "Our Waupoos Cider has a good following as it is in so many bars and restaurants but you have to have a good product to stay there as everyone is fighting for those tap lines."
Waupoos and County Cider are also sold through the LCBO, but Howes admits that even though Ontario has gone from three cideries two years ago to 14 in 2014, distribution is a problem for the burgeoning industry.
"It is a challenge getting the product into the hands of consumers but there are cideries all over the traditional apple growing areas now," he says. "Cider has given the local food movement a push, especially in restaurants where chefs always looking for something different to get a competitive edge. The growth is great to see and to get that recognition that we grow great apples and make fantastic ciders."
Looking to the future, Howes is preparing to launch a pear cider this year and has also started producing some new ciders made from the traditional cider apple varieties he has been experimenting with. The success of their Tortured Path cider, which sold out in six weeks last year, has helped validate the work they've been doing growing the "weird varietals", he says.
"Our trees dictate how quickly we can grow, which keeps us well-grounded and we'll just continue to plant the apples," he says.
To learn more about The County Cider Company, visit www.countycider.com.
Written by Lilian Schaer for Ontario Apple Growers. Photo courtesy of Grant Howes, The County Cider Company.