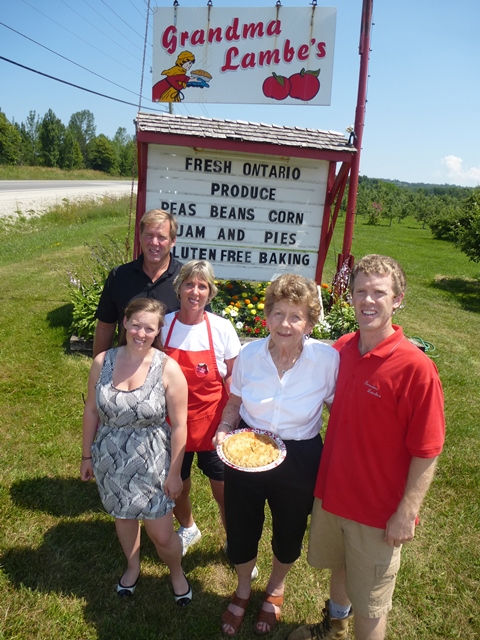 Family business started with apples, pies and a little red wagon
According to the Lambe family of Meaford, their story begins with an apple orchard, a well-used pie recipe and a little red wagon.
In the 1940's, dairy farmers Mabel and Hartley Lambe were among the first farmers in Grey County to plant apple trees on their property just east of town. Once their trees began to produce, they started selling apples out of a garage at the front of their house.
In 1947, Gord brought his young bride, Grace, home to a second house on the family farm - a home she continues to live in today. Grace and Gord continued to build up the family's fledgling apple business, adding other types of fruit trees, like pear and cherry, to the orchard.
As Gord and Grace's three children grew up, Barbara, David and Darlene were expected to help with the family business. Dave recalls that as a kid, their garage was always full of bushel baskets of apples. He also remembers harvest season as being a real community event, where farm neighbours would often drop by to help pick after they finished their own chores.
Both Mabel and her daughter-in-law Grace were talented pastry chefs. Hating to see anything go to waste, Grace began baking pies from some of the fruit that was bruised and couldn't be sold. She'd sell these pies at the roadside, wheeling them from her house in her kids' red wagon.

Eventually, it got to the point where, to meet demand, she was baking up to 40 pies a day from the kitchen in her house. Tired of the floury mess he'd find every night when he finished work on the farm, her husband Gord finally announced that it was time to build her a small bakery. Needless to say, Grace was thrilled.
In the decades since, that first building has been expanded many times and now includes three kitchens, a three-room retail store, storage facility and two walk-in freezers. Dave chuckles as he said, "Every time we'd build mom a building, she'd say it was 'too small' and she was always right." A second location added six years ago in nearby Chathworth.
When it came to picking a name for the business, Dave said there was only one logical choice. Grandma Lambe's was named in honour of Mabel Lambe although Grace is now proud to wear that title.
The business started small, open only two months a year. Today it is open 362 days a year, with the exception of Christmas Day, Boxing Day and Good Friday. When asked about New Year's Day, Grace chuckles before replying, "I'm here anyways. I might as well be open." She added that the store's informal motto is, "We may doze but we never close", noting that there many often times when they'll answer calls or knocks on their doors after hours from people looking for baking . The family can usually accommodate those requests.
The farm business is a true family affair with three younger generations now working alongside the current Grandma Lambe. Grace's daughter Darlene Smith and granddaughter Cailey work full time in the stores and bakeries. Son Dave and grandson Blake manage the farm's 135 acres of fruit trees. Son-in-law Larry Cann makes apple pies when he's not managing his own dairy cow farm. And great granddaughter Heather Smith also helps when needed. Other grandchildren and family members worked during summer months when they were growing up. In their busy summer and harvest times, the family is assisted by a number of seasonal employees.
The bakery now produces up to 200 pies a day – raspberry, apple, cherry and peach as well as meat pies. They've added fresh produce, gluten free baking and homemade jams to their sales. All pies are still made using the pastry recipes Grace inherited from both her mother and mother in law.
The business has benefited significantly from its location, located on a busy highway used by many tourists heading to cottage country. "That's really helped our business," said Dave. "We now often get bus tours stopping in here although it has been local residents who have supported us from the beginning."
The family's lives haven't been without adversity. Grace lost her husband Gord in 1991 and her daughter Barbara in 2009. In 2012, a devastating April frost also destroyed most of their apple crop, requiring them to source apples from farmers in other Canadian provinces. Said great granddaughter Heather Smith, "As a family, we have been through a great deal but I like to think that the apple orchard and family farm market is what keeps us strong and working together. Our family now represents five generations of apple farming."
Looking around at her family, Grace, now 86, says she can't imagine the business without them. "It's hard work but it's so rewarding," she says. "It's a real family affair."
For more information on this farm family business, visit www.grandmalambes.com.
Photo: Grandma (Grace) Lambe is shown here with son Dave, daughter Darlene Smith, grandson Blake, great granddaughter Heather Smith and one of the pies she's famous for.
Story by Kelly Daynard, Farm & Food Care