Why storage research is important to apple production
January 30, 2017
Apples are a fruit that can be enjoyed equally well at harvest or months later. Many Ontario apple growers put their crop into storage so that consumers can eat fresh local apples throughout the fall and winter months.
Apples stored in a commercial refrigerated or cold storage will keep for two to three months, but for long term storage (up to 12 months), apple growers use controlled atmosphere (CA) storage. You can read more about how this works in another one of our posts here - http://onapples.com/blog/tree-ripened-apple-freshness-in-the-middle-of-canadian-winter.php
But how do farmers know the best conditions, temperature and timing for storing their fruit?? And will technology from other parts of the world perform equally well in Ontario, where climate and geography are different?
That's where researchers like Dr. Jennifer DeEll come in. She's the Fresh Market Quality Specialist for Horticultural Crops with the Ontario Ministry of Agriculture, Food and Rural Affairs (OMAFRA) and part of her job includes conducting research into storage technologies for fresh Ontario fruit like apples.
She's just completed a project looking at a technology called SafePod, which could result in longer storage life for apples and better quality fruit when they come out of cold storage.
Apples have long been stored in low oxygen environments, but until now, it had never been possible to determine how low the oxygen levels for a specific variety can go before the fruit's quality begins to suffer.
SafePod measures apples' response to atmospheric stress by monitoring their respiration rate while they are in storage, allowing storage operators to use the lowest safe oxygen concentration possible.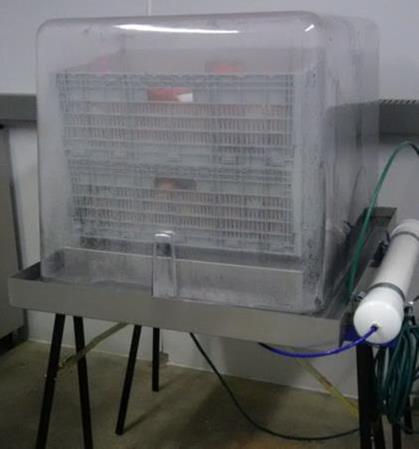 Photo courtesy of Dr. Jennifer DeEll
"Fruit respires by using oxygen, just the way people do, and as you lower the oxygen level in their storage environment, they become stressed," she explains. "At their breaking point, when they can't tolerate the low oxygen level any more, they switch to anaerobic respiration, which is fermentation."
"Growers want to be able to get that oxygen level as low as possible while still maintaining safe levels because the lower the oxygen, the firmer the fruit and the better the quality", she adds.
SafePod is a small unit that can be filled with four bushels of apples and placed into a large commercial cold storage amongst the other bins of apples. It lets storage operators measure the actual respiration of the fruit inside the unit by giving a reading of both oxygen and carbon dioxide levels, which together result in a respiration quotient that can indicate when the apples are becoming stressed.
Levels specific to the crop, growing season, variety and even the orchard the apples come from can be established annually by the storage operator.
This project was funded in part through Growing Forward 2 (GF2), a federal-provincial-territorial initiative. The Agricultural Adaptation Council assists in the delivery of GF2 in Ontario.
Another technology DeEll was involved in testing for Ontario farmers is a new air-tight storage container module that lets farmers store produce in a low oxygen environment. The storage bin lids contain semi-permeable membranes that release carbon dioxide from the bin while maintaining a small concentration of oxygen inside. They're particularly ideal for growers who have cold storage units on their farms, but no controlled atmosphere capabilities, and are looking to extend the shelf life of their fruits or vegetables.
Research like DeEll's allows the industry to test new technologies and share the results with all apple growers instead of each grower having to make his or her own investments and conduct their own trials individually.
-30-