Five Easy Ways to Love Apples at Every Meal
December 05, 2017
Written by: Zannat Reza, Registered Dietitian
We all know that apples are a fast, grab 'n go snack but they can also be enjoyed throughout the day. Get inspired with these apple-licious ideas:
Breakfast
Packed with 4 grams of fibre in each apple, it makes sense to start your day with this fantastic fruit. Fibre helps keep you "regular" and curbs your hunger.

Cereal topper – Whether it's warm oatmeal, or your favourite whole grain cereal out of a box, chopped apples are the perfect way to perk up your morning.
Pancakes – Show your pancakes some apple love. Fold grated apple into your batter or make this baked version ahead of time and heat it up when you're ready to eat.
Toast topper – Smear whole grain toast with your favourite nut butter, and top with crunchy slices of apple.
Yogurt parfaits – Layer diced apples with plain yogurt and nuts. Sprinkle generously with cinnamon.
In a smoothie – The next time you whip up a smoothie, add an apple to your favourite combo. Easy!
Lu

nch

Apples can help you stay hydrated throughout the afternoon. That's because, over 80% of an apple is actually water. The benefit? Better concentration!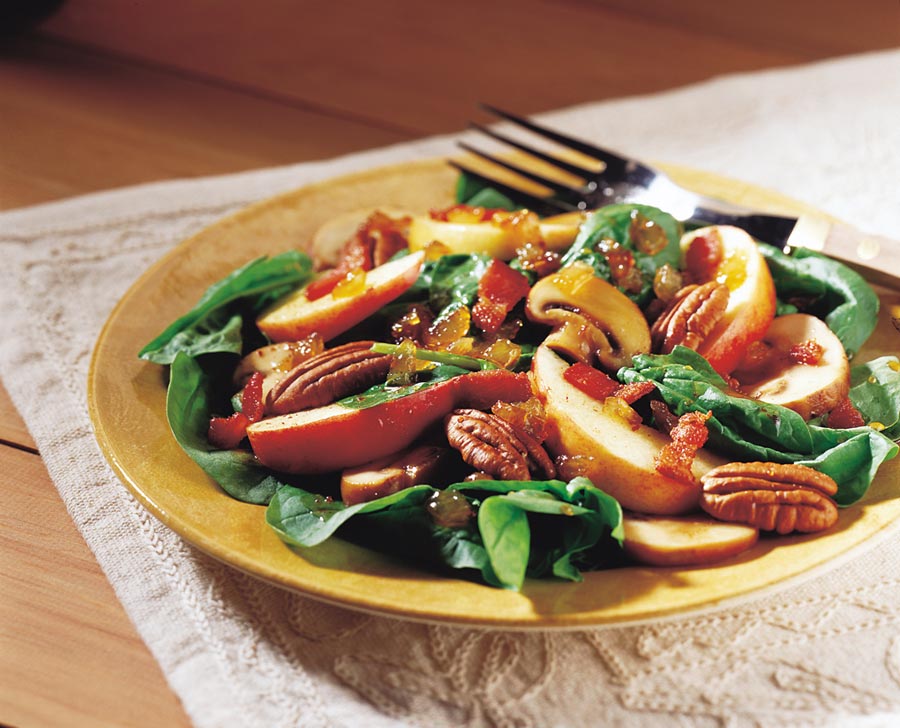 Sandwich game changer – Tuck thin slices of apple in your next sandwich to bump up the juicy factor.
Green salad

- Slice your favourite apple into a green salad or slaw, like this

apple and spinach salad

.

Hearty salad - Toss together a barley or quinoa salad with chickpeas, apples and red peppers.
Hummus platter – Serve up apple slices alongside raw veggies for dipping into hummus.
Easy bento box – Pull together a quick lunch with whole grain pita, cheese cubes, bite-sized vegetables and a crunchy apple.
Dinner
Apples bump up the antioxidant power in your dinner, which are key to living healthier and longer.
Stir fry – Adding apples to a stir fry? That's genius!
Soups and stews – Enjoy a piping hot apple and squash soup or a beer braised apple and pork stew with root vegetables.
Easy quesadilla – Pair up tangy apple salsa on your next quesadilla adventure.
Pizza topping – Add thinly-sliced apples on your favourite pizza. Or if you're looking for something a little more elevated, try this caramelized onion recipe.
Mac 'n cheese – Up your pasta game with this hearty mac 'n cheese version.
More from Zannat at http://www.thrive360.buzz/