Ontario apples in demand for craft cider: The New Farm
September 04, 2017
The go-to alcoholic drink for millennials has producers seeking the best of the bushel.
Gala, Honeycrisp, Ambrosia and Northern Spy: these are the popular Ontario apple varieties Prof. John Cline and his pomology research team at the University of Guelph have focused on for decades. Consumers like these varieties and they grow well in Ontario.
Cline and his team — working out of the Simcoe Research Station — have helped apple producers adopt new management techniques that make growing trees and harvesting apples much more efficient and marketable.
That's key when apples are ready to come off the tree.
Lately, they've been turning their sights towards apples purposely grown for hard cider.
That's a switch. At one time, cider was the poor cousin of the apple sector. Often it was made from apples that consumers avoided — for example, apples that were slightly blemished, irregularly shaped or had fallen to the orchard floor (called "grounders").
Nothing was really wrong with these apples. But consumers looking for attractive table stock turn up their noses at imperfection.
Over the past decade or so, though, cider's image has changed. It's become the go-to alcoholic drink for millennials who believe it represents their values.
"Apple cider has a fresh, healthy connotation to it, so it feels natural to buy it where you buy other fresh, healthy foods," says Toronto-based produce buyer and industry consultant Mike Mauti of Execulytics.
And then there's craft cider, which further distances millennials' libations from that of their parents.
Craft cider is a higher-level product within the $24-million cider market. The LCBO describes craft cider's growth as "exponential." Last year alone, sales boomed 35 per cent.
About one-third of all cider offered now at the LCBO is craft cider.
Cideries that produce craft products distinguish themselves with the local ingredients their customers crave. They begin with fresh-pressed juice from local apple varieties (and, to a lesser extent, pears) and not much else. Craft cideries don't add extra sugar, colour or flavour to their product.
They don't need to, if the apples are specifically for cider. That means they have natural traits such as extra acidity, high sugars and tannins.
With support from the provincial and federal governments and the Ontario Craft Cider Association, Cline and his team are testing nearly 30 different apple cider varieties, primarily from France and Great Britain. As well, he's part of an expert group coming together at the university specifically to service the hard cider and brewing industry.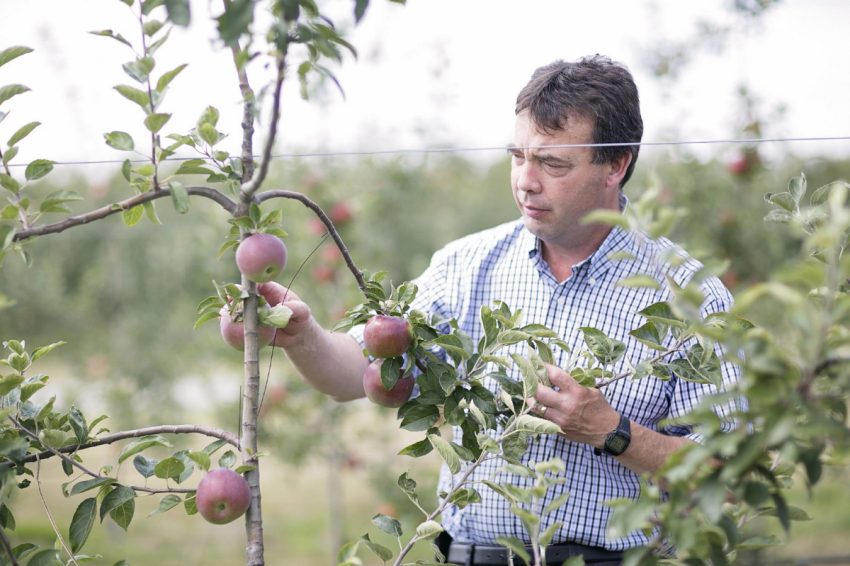 University of Guelph Prof. John Cline and his team have helped apple producers adopt new management techniq
ues that make growing trees and harvesting apples more efficient and marketable.
​
In some cases, cider apple varieties are extra tart or sweet, much more so than popular table varieties. And that makes them ideal for cider makers to work with them, blend them and get unique combinations and unique products that appeal to consumers.
Cline is particularly hopeful about a dozen varieties he and his team are working with. He believes these new varieties could be on the market in two years.
"A lot of cideries are using fresh apples from popular culinary apple stocks, because that's all what's available to them," Cline says. "That's OK, but the craft cideries want something special: a juice that offers unique flavours and high tannins. That's what we're working to develop."
Ontario has apple-friendly farms
Apples are a great crop for this province. "Ontario's favourable climate, its adjacency to water and its excellent soil provide rich conditions for growing apples. That's made it a hotbed for producing craft cider," says Hamed Foroush, chief technology officer at Adeeb Consulting Inc. of Toronto.
Source: thestar.com
https://www.thestar.com/news/gta/urban-farming/2017/09/04/ontario-apples-in-demand-for-craft-cider-the-new-farm.html