Fresh Bites: How to pick the right cooking apple
October 14, 2016
What's the best apple for baking a pie? What about for applesauce?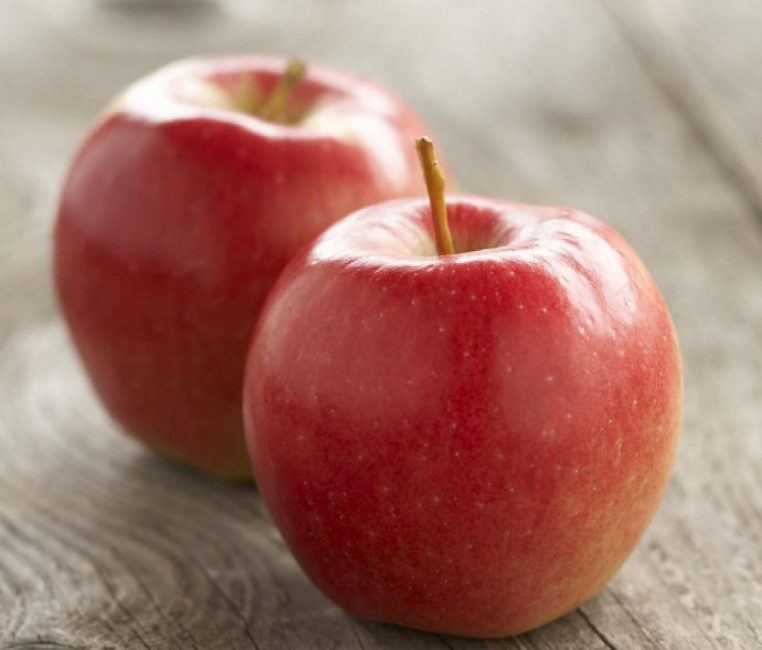 Ambrosia apples are low in acid and slow to brown. This makes it an ideal apple for salads. (Ontario Apple Growers)
By Cynthia David Special to the Star
Tues., Oct. 11, 2016
When the Brantview Apples & Cider tent goes up at farmers markets and bags of apples appear on the long table, the questions begin.
What's the best apple for pie? For applesauce?
Grower Jay Howell and daughter Jen from St. George, between Brantford Ont. and Cambridge Ont., answer questions with ease, knowing they have an apple to suit every taste bud from among their 20 varieties, including the Wealthy apple once favoured for pies.
Speaking of pie, word from the orchard is that ultra- juicy Honeycrisp, developed in Minnesota and gaining ground here, may just make the best (and most expensive) apple pie ever!
While Honeycrisp continues to steal the spotlight, Howell is about to start harvesting Ambrosia, the sweet pink and cream-coloured beauty that's gaining bushels of fans.
It was found by chance in a B.C. orchard back in 1992.
Like Cortland, Ambrosia's low in acid and slow to brown, making it ideal for salads. But the best way to enjoy its fine, crisp texture, juicy flesh and honeyed flavour is to eat it out of hand.
Brantview is one of 11 Ontario sites that receive new trees annually from B.C. as part of a federal research program. Some don't even have a name — Howell says #404 didn't fare well in a recent taste test with school kids.
An apple that is showing promise is Salish, named after indigenous peoples of the Pacific Northwest.
"Salish could take off, though I'm not sure about the name," Howell says. "It stays firm, has flavours everyone likes and it's easy to grow."
This year's Ontario apples are on the smaller side, yet burst with sweetness. Now's the time to sample them all and find a new favourite.
Take your pick
Everyone has a favourite cooking apple. For baking, try Northern Spy, Cortland, Mutsu (Crispin) or Ginger Gold, which keep their shape. McIntosh is best for sauce along with Golden Delicious and sweet-tart Empire.
Buy & Store
Choose firm, well-shaped apples with smooth skin free of wrinkles and bruises.
Growers put core varieties to sleep so we'll have local apples year-round.
Howell expects to have Ambrosia on the farm into the New Year.
To keep apples crisp, Jen Howell refrigerates them in a plastic bag with a damp paper towel. Replace towel when it dries out.
Store apples separately from other fruits and vegetables as the ethylene gas they give off speeds ripening.
Prep
To prevent browning, sprinkle cut apples with lemon juice.
When you juice apples, leave the skin but lose the seeds.
If a recipe calls for 2 to 2 ½ cups (500-625 mL) chopped or sliced apples, you'll need 1 lb (.5 kg), which equals about four small, three medium or two large apples.
Serve
Homemade applesauce is delicious with yogurt and granola or spooned over pancakes. Leave the skin on for extra fibre and nutrition.
Pair apples with parsnips, carrots, cauliflower and sweet potatoes.
Sauté slightly sweet Golden Delicious or Jonagold to serve with pork or duck.
Honeycrisp complements strong cheese while Gala loves soft, mild cheese.
Apple Cake with Pecan Glaze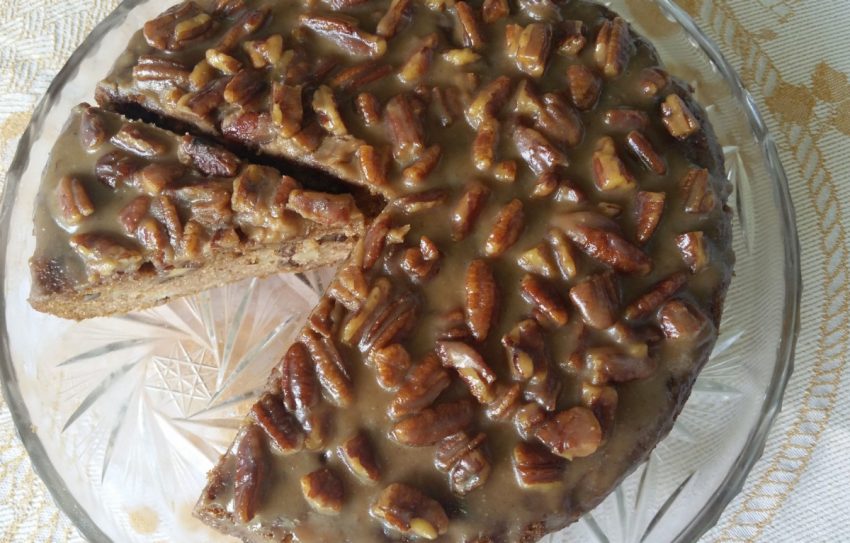 Apple Cake with Pecan Glaze, from The Baker In Me by Daphna Rabinovitch.
This luxurious cake is from The Baker in Me, one of the most thorough baking books ever by Daphna Rabinovitch, pastry chef and former director of Canadian Living's test kitchen.
1 ½ cups (375 mL) all-purpose flour
1 ½ tsp (7 mL) ground cinnamon
1 tsp (5 mL) baking soda
Pinch of salt
1 cup (250 mL) unsalted butter, softened (8 oz/250 g)
1 cup (250 mL) granulated sugar
2 large eggs, at room temperature
1 tsp (5 mL) vanilla
3 tart apples, peeled, cored, finely chopped
½ cup (125 mL) pecan pieces
Topping:
1 tbsp (15 mL) unsalted butter, softened
2/3 cup (160 mL) pecan halves
½ cup (125 mL) whipping cream
1/3 cup (80 mL) packed light brown sugar
Preheat oven to 350 F (180 C). Lightly grease bottom and sides of an 8.5 or 9-inch (22 or 23 cm) springform pan. Line bottom of pan with a round of parchment paper cut to fit. Set aside.
Whisk together flour, cinnamon, baking soda and salt in a bowl until thoroughly combined. Set aside.
In bowl of stand mixer fitted with paddle attachment or using a hand-held mixer, beat butter one minute. Add sugar and beat until light and fluffy, about three minutes. Beat in eggs one at a time, beating well after each addition. Beat in vanilla.
Remove bowl from stand. With a wooden spoon, stir in flour mixture in three separate additions. Fold in apples and pecans. Scrape batter into prepared pan; it will be thick, but don't worry. Place pan on a rimmed baking sheet.
Bake in centre of preheated oven until a cake tester inserted in the centre comes out clean, 50 to 60 minutes. Cool cake in the pan on wire rack for 30 minutes. Run a knife around the edge of the pan to loosen cake. Remove from pan and cool on wire rack, parchment side down.
For topping, melt butter in a saucepan set over medium heat. Add nuts and cook, stirring occasionally until lightly toasted, about three minutes. Stir in cream and brown sugar; bring to a boil. Reduce heat slightly and boil gently until thick, about five minutes.
Remove parchment paper and transfer cake to a serving platter. Pour pecan glaze over cake, letting the excess run down sides. Let glaze set; serve at room temperature.
Makes 8 to12 servings.
Source: Toronto Star
https://www.thestar.com/life/food_wine/2016/10/11/fresh-bites-how-to-pick-the-right-cooking-apple.html